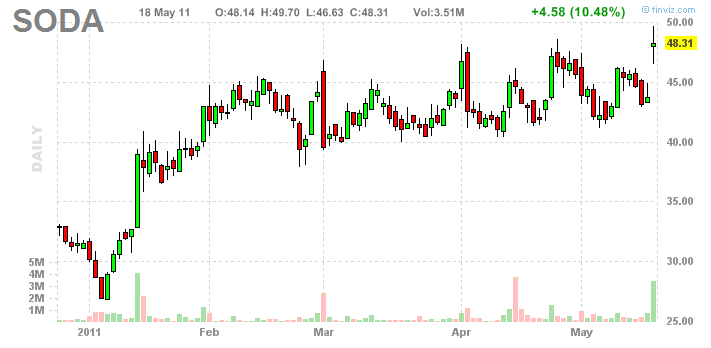 The producer of soda machines – $SODA, broke out to a new all-time high after releasing strong earnings report. The company announced that in Q1 it gained 0.27 EUR vs 0.15 EUR consensus estimate. It also raised its next quarter earnings guidance above the estimates.
$SODA has a very small float of 11.7M shares, one third of which is currently shorted. The market cap is under $1 billion.
An all-time high breakout + high short interest + small cap + small float has often been the perfect recipe for a major short squeeze.
Interestingly, the stocks of  most major beverage companies are trading very close to their all-time highs: $HANS, $DPS, $PEP, $KO. The Food and Beverage ETF – $PBJ, is also trading near major highs.
$SODA doesn't sell soda. It targets the individual consumer market with machines for soda making. Its operating margin is nowhere near the soda industry average (6% vs 30% for $HANS). The U.S.A. is its fastest growing market.