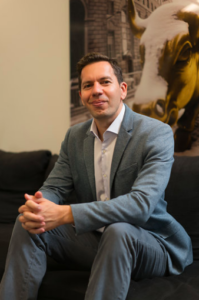 My name is Ivaylo Ivanov, also known as Ivanhoff. Most people call me Ivan or Ivo. I have been successfully trading equities and options for 18 years.
You can subscribe to my premium service which includes a private twitter feed @IvanhoffTrades, where I share option and stock swing trade ideas, a weekly newsletter that includes practical market analysis, the Momentum 40 list of current market leaders, and position trade ideas. Click here for more information.
I am the author of Power Short-term Trading – Using Options and Stocks to Quickly Grow Your Account (2023), Swing Trading with Options – How to trade big trends for big money (2018),  Top 10 Trading Setups – How to find them, When to Trade them, How to Make Money with them (2016), The Next Apple – How To Own The Best Performing Stocks In Any Given Year (2015),   The 5 Secrets To Highly Profitable Swing Trading (2014), Crash – How to Protect and Grow Your Capital during Corrections (2015), "The StockTwits Edge – 40 Actionable Setups from Real Market Pros" (Wiley, 2011), 8 to 80 – The Next 1000% Stocks and Trends Everyone Can Ride (2017). I have educated tens of thousands of people on how to trade and invest via my books. See a full list on my Amazon author's page.
My work has been featured and quoted in the Wall Street Journal, Financial Times, Reuters, Bloomberg, OPTO Traders magazine, and Columbia University Press.
I have an MBA and MS in Finance from Webster University in Saint Louis, Missouri.
I was born in Bulgaria but nowadays I live in beautiful San Diego. Let me know if you visit. I'd love to grab a cup of coffee or beer and talk markets.
Follow me on  StockTwits: @ivanhoff
Follow me on Twitter: @ivanhoff2
Follow me on Twitter: @IvanhoffTrades (this is a private paid stream; you need to subscribe first before your follow request is approved)
You can contact me via email: ivo at ivanhoff.com or via a direct message on Twitter.
Podcasts and Interviews
My Youtube channel – Momentum Monday
Investors Business Daily podcast – Market Commentary plus How to find and trade recent IPO stocks with great potential
StockTwits Interview – The most important concept in swing trading
StockTwits Interview – When to sell a big winner
Chat with Traders Podcast – Swing Trading Industry Momentum
Better System Trader Podcast – How to Protect and Grow Capital during Corrections
The Must-Follow Podcast – How to find great stock ideas
Disclaimer: everything on this website is for informational and educational purposes only. The ideas presented are not recommendations to buy or sell stocks. The material presented here might not take into account your specific investment objectives. I may or may not own some of the securities mentioned. Consult your investment advisor before acting on any of the information provided here.