Welcome to Ivanhoff Trades. I am confident you will learn and profit from my service.
The goal of the service is to be fast, light, mobile, profitable, educational, and easy to follow so the majority of it will happen on Twitter and via email. I will share actionable options and stock trade ideas and my thoughts on the current market.
Private Twitter Access
Go to twitter.com/IvanhoffTrades and request to follow me there. I will grant you access and you are good to go.
At the top of the private Twitter feed, you will find a pinned message with links to spreadsheets with all open and closed ideas, the latest Momentum 50 list, and the last weekly email. Scroll through the last few tweets and see if there are any open ideas that are still in the suggested entry range.
You can sign up for Twitter push notifications on both mobile and desktop
Any time I post something on Twitter, you can receive a push notification on your phone. You can decide when to check on the Twitter stream and use it at your own pace.
Here's how to use Twitter push notifications. To summarize, once you are approved to follow @IvanhoffTrades, you can go to its profile page and click on the notification icon (the bell with the plus sign next to the Follow button). Make sure your phone allows push notifications from Twitter: go to Settings/Notifications/Twitter.
Another easy way to follow my notifications on your desktop computer is via Tweetdeck: https://tweetdeck.twitter.com/ – you can set up a separate column for @IvanhoffTrades and even add filters like the word "alert" and sounds.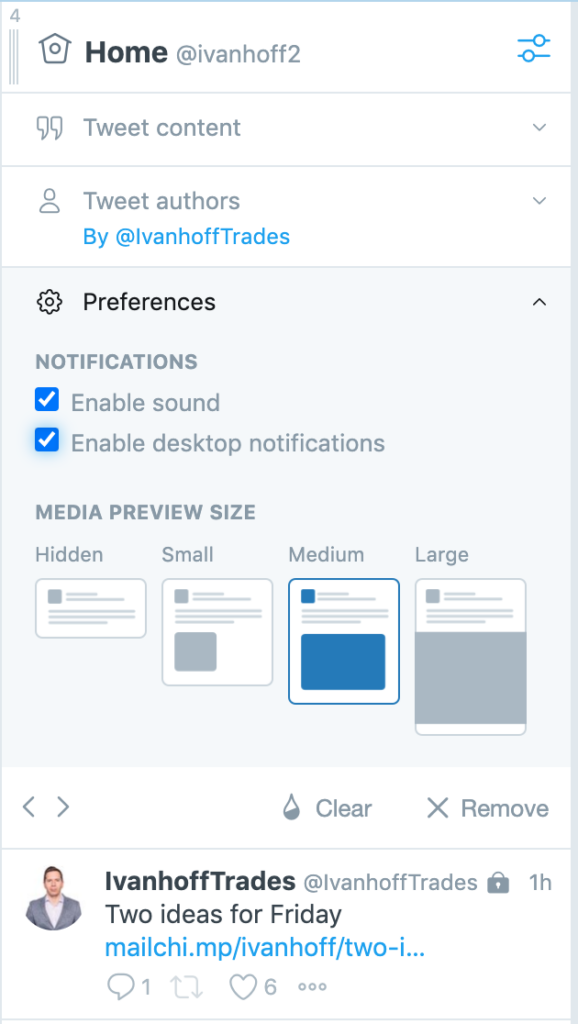 Email
You will receive the occasional email with my thoughts and actional ideas for the next day but everything will also get posted on the private Twitter feed.
How to contact me
If you have any questions or suggestions, please let me know. You can either email at ivo at ivanhoff.com or direct-message on Twiter @ivanhoff2.
Every actionable official idea I share on Twitter will start with the word: "Alert". Everything else I post is just for observational purposes and up to you if you want to make it actionable.
Important links:
You can manage your subscription here (cancel, update cc info, etc)
Looking forward to working with you.