Subscribe to my premium service to get access to: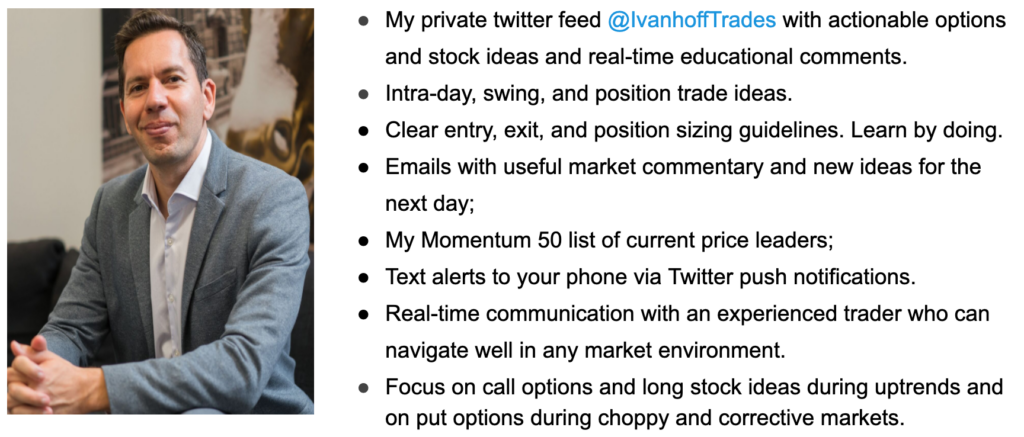 The purpose of my trading ideas (swing or intraday) is:
To compound our returns quickly by capturing hundreds of 5% to 20% short-term moves in a year while keeping our drawdown small and
To manage our risk in a way that allows our winners to be much bigger than our losers.
When we apply options to leverage our best stock ideas, the goal is to capture hundreds of 100%-1000% short-term gains while risking 0.5% to 2% of our capital on every single one of them.
Whether your goal is to become a full-time trader or you would like to create a second income, I offer all the tools and education you need to become consistently profitable and develop your own trading approach. Learn how to regularly find and profit from high-probability intraday, swing, and position setups. I'll help you learn how to decide with confidence when to keep riding them and when to get off to maximize your profits.
You can subscribe securely via Stripe here:
Monthly Subscription – $99 per month
Annual subscription – $940 per year (20% discount compared to monthly)
PERFORMANCE
Here's a Google spreadsheet tracking all closed option and stock ideas shared on my private Twitter stream and weekly email for subscribers.
See my free weekly email for examples of the typical insights and ideas I share.
EXAMPLES of the PREMIUM EMAILS I SEND: March 23, 2020 and April 23, 2020