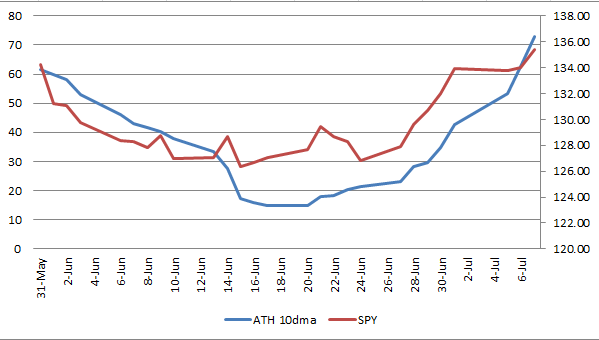 On the graph above, you can see $SPY plotted against a 10-day MA of the number of stocks closed at all-time highs.
The number of stocks at the all-time high list continues to expand, confirming the new high in the major market averages. By most breadth readings, the market looks overbought, just like last week. Eventually those readings will matter. In the meantime, it is better to concentrate on the individual stocks, as new leaders emerge daily.
Many retailers reported better than expected same store sales for June. As a result, we see quite a few new names from the sector on the all-time high list:
Apparel stores: $RUE $DSW $GCO $FINL
Department stores: $DDS $TJX
Discount stores: $PSMT $DLTR
See charts of the whole list here.