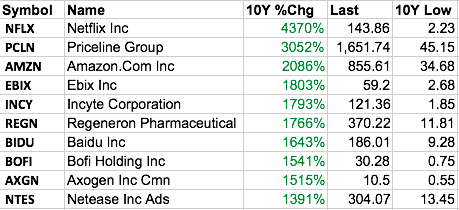 29 stocks went up more than 1000% in the past decade. One of them is an airline. I guess going to Hawaii has been really popular. Seven of the top ten performers are Internet stocks. The other three are biotech companies. It was the decade of Internet and drugs.
What do all of the above stocks have in common, other than being able to grow their earnings and sales in an impressive manner? They spend a lot of time on the 52-week highs list and set up multiple times.
The U.S. stock market indexes bottomed on March 9th, 2009. A couple days later, two stocks broke out to new all-time highs. Both of them went up more than 10x after their breakouts. One was Green Mountain Coffee Roasters, which was acquired in 2015. The other one was Netflix. Netflix went up 44X in the past decade and today it is a 62-billion dollar company. In 2000, Blockbuster refused to buy Netflix for $50 million, because "it was a very small niche business".