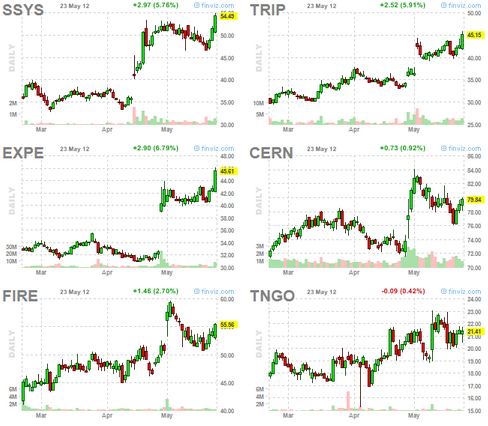 Given the negative headlines over the past 24 hours, the  market is surprisingly resilient. The S & P 500 managed to come back from a 1.5% drawback and finish flat. High-beta, momentum names fared even better. We saw several breakouts to new multi-year highs: $EXPE, $TRIP, $SWI, $PETM. Also numerous bounces from rising 20 and 50dmas.
During market corrections, future leaders build bases. This is why it is useful to keep an eye on stocks that are advancing to new highs while the market averages are struggling.  Here is a list of 15 stocks that meet that criteria. 13 of them were featured in the latest  StockTwits 50 list: $SSYS $DDD $EXPE $TRIP $Z $SWI $FIRE $TNGO $EAT $GNC $CERN $EBAY $MNST $WWWW $ALGN
Other than that, I expect another crazy summer. Stocks will be severely impacted by macro-driven headlines – deja vu of 2011. Europe is still a mess. Its politicians are poker players that are challenging each other every day. Who is going to blink first? There is no doubt that the implications for the market's sentiment will be enormous. The chopfest will reign supreme and we will likely see pockets of substantial strength and weakness, coming one after another and continuing long enough to confuse everyone. Welcome to the new normal.
Note: click on the picture above to see the charts of all 15 stocks.