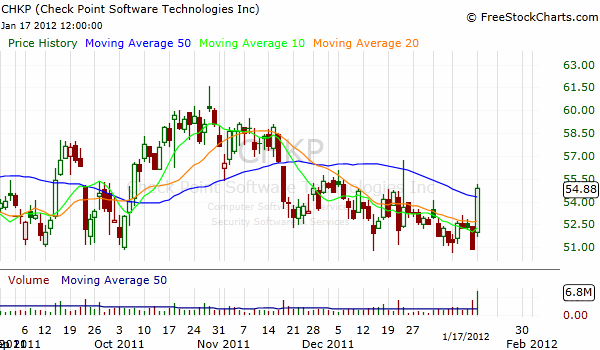 The earnings season is still young and it is early to draw any major conclusions. With that in mind, the truth is that so far the reports have been weak at best, but market participants have managed to see a silver lining.
Alcoa ($AA) and JP Morgan ($JPM) missed, but both are hovering close to their pre-earnings levels.
$CROX merely guided in line last week, but its stock appreciated 20% on the news.
The security software company – Check Point Technologies ($CHKP) barely beat the estimates by a few cents. Those familiar with the games on Wall Street, realize that a few cents earnings beat is nothing abnormal. The result – 8% price appreciation on 3.5 times the average daily volume. And all this in a shaky tape, ruled by heavy profit taking.
Positive market reactions to vague earnings reports is a good sign of healthy risk appetite.
Of course, if you miss the estimates by a mile (as $C did) or if you guide below the consensus (as $EDU and $CREE did), the market will be merciless as it has always been.
For the first time in a long time, we trade in a "market of stocks" environment, where individual companies' catalysts are more important than macro headlines that usually take the front pages of financial media.