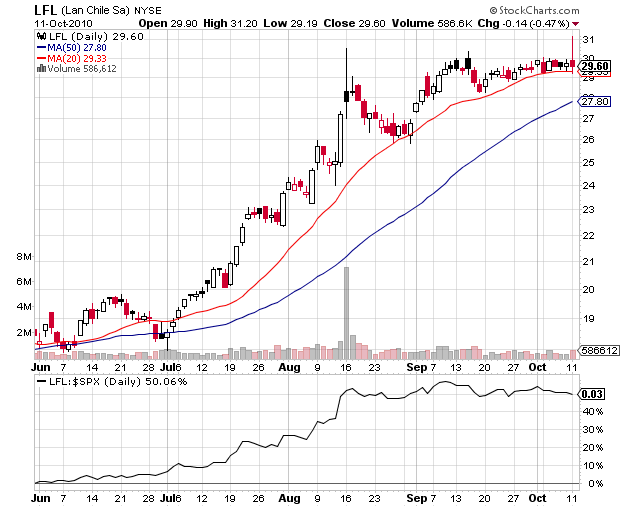 There is an Irish proverb that applies very well to capital markets: The obvious rarely happens, the unexpected constantly occurs.
The Chilean Airlines $LFL was listed in the last three editions of StockTwits 50. The company has been growing earnings and sales in an impressive manner. The declining US Dollar has been beneficial to foreign ADRs that derive most of their income in non-US currencies.The rising middle class in South America is spending more and it has access to more credit.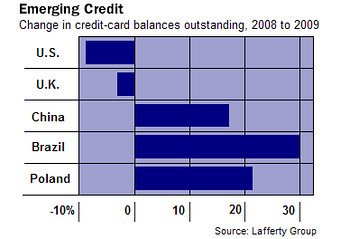 $LFL had a huge run during the summer, followed by ever tightening sideways consolidation above its rising 20-day MA. On Friday afternoon, Lan Airlines reported a 14% increase in the passengers traffic for September on year/year basis. $LFL looked poised on explode to the upside, given its enormous short interest ratio of 8.3 days. The stock broke out to new all time highs during the first hour of trading on Monday, only to reverse later and to close down 0.5% for the day. There are no perfect setups in the market. It tends to go in the direction that will surprise the most market participants.
$LFL reminds me a bit of $NXTM, which chart looked perfect  and poised to break out in August. It did, only to quickly reverse lower, where it found support above its rising 50-day MA.
Such failed breakout followed by a breakdown could be actually bullish if the stock manages to set up again. Why? Because, the decline shakes out the weak hands, who are likely to sell very quickly after a breakout. They tend to be very impatient, have a shorter horizon, cut losses slowly and take profits quickly. Next time when the stock sets up, more and more people will be afraid to get involved, because they have recently been burned by it. Such market participants will only enter again after the stock has made a good portion of its run and they will actually provide the liquidity for the breakout buyers to exit.