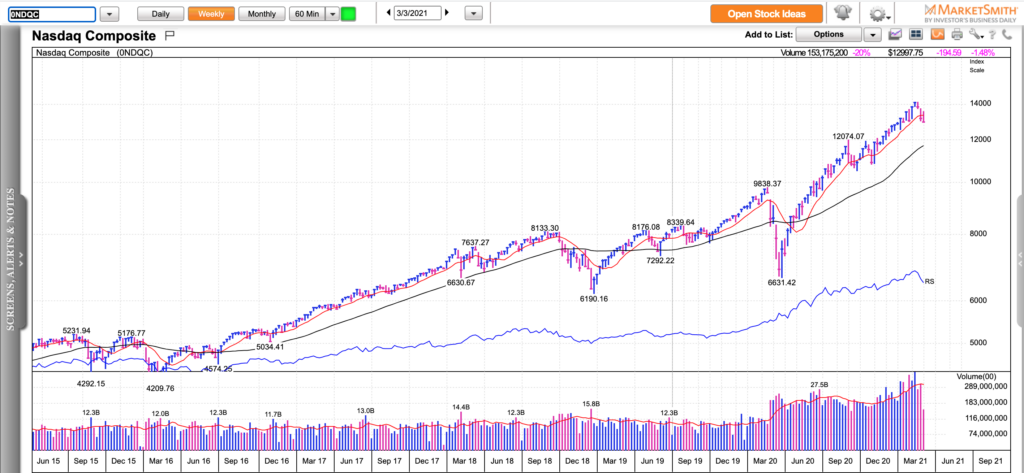 If you are a short-term trader, the direction of the market rarely matters as you can make money on both the long and the short sides. Obviously, there are times when it is a lot easier to make money on the long side and hold positions overnight. There are times when it makes more sense to be mostly short or on the sidelines. The following is for those who for one reason or another, are primarily investors or position traders who prefer to hold their stocks for many months but want to know how to minimize their regret of selling too soon or too late. A few times a year the market will correct and will test your ability to hold your positions. The way I see it, there are two main ways to deal with it:
Have a clear exit strategy. For example, you can sell 5 minutes before the market closes if your holding is about to close below its 20-day, 50-day, or 100-day moving average. You can sell the next day too. If a stock has spent a considerable time surfing above its 20, 50, or 100-day moving average, it is likely to have a considerable correction when it finally closes below them. Or it might take a few weeks/months to build a new base. Future leaders build powerful bases during market corrections.
If you have a strong conviction in your holdings and you want to hold them for years, learn how to hedge. You can buy short-term puts when they are super-extended above their 20 or 50-day moving average or when they start breaking below those moving averages. The short-term puts can soften the blow of a short-term correction so you don't end up scaring and liquidating at the lows. Keep in mind that the stocks that have treated you well for several years might not emerge as new leaders once the correction is over. The beauty of the markets is that they are perpetual opportunity machines. They constantly create a new crop of leaders that will surprise even the biggest optimists with their upside moves.
Try my subscription service which includes a private Twitter feed with option and stock ideas, emails with concise market commentary and actionable swing, intraday, and position trade ideas, the Momentum 40 list of market leaders, and much more. See some of the recent testimonials.
PERFORMANCE
Here's a Google spreadsheet tracking all closed options and stock ideas shared on my private Twitter stream and emails for subscribers.
Check out my free weekly email. to get an idea of the content I share with members.
Disclaimer: Everything I share is for educational and informational purposes only and it should not be considered financial advice.