The charts in this video are powered by MarketSmith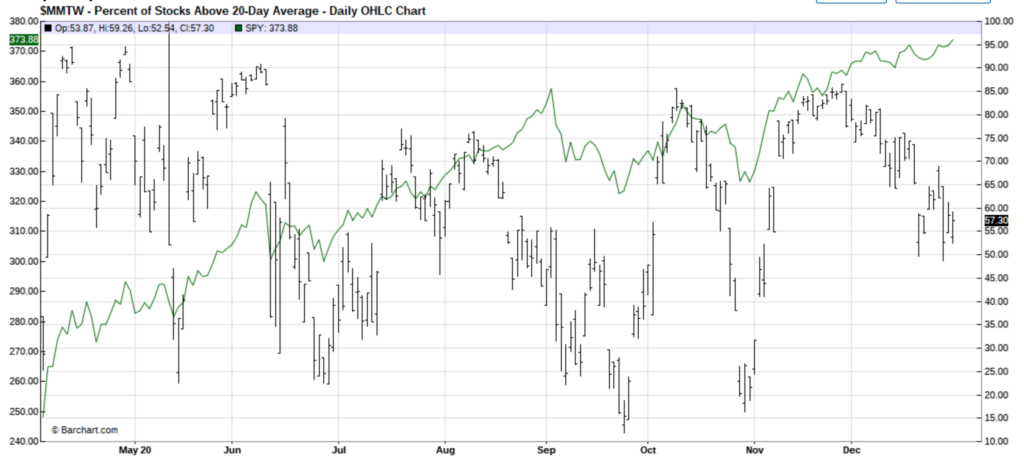 While the main stock indexes have been making new highs in December, the percentage of stocks trading above their 20-day moving average has decreased from 85% to 55%. This might be just the healthy reset or the beginning of a normal 10% pullback – they are a lot more frequently than most think. SPY has one in October and one in September of last year when the percentage of stocks trading above their 20-day moving average dropped to 15%.
Bull markets correct through sector rotation. We have seen so many examples. A significant number of momentum stocks are currently in a pullback mode. There is a reason so many breakouts have not been following through lately. In the meantime, the so-called recovery stocks and ETFs are shining – breaking out or setting up:
The market is clearly betting on the COVID vaccines working and things getting back to some resemblance of normal. The markets constantly try to price events that haven't happened yet. Sometimes, they are right and predict the future; sometimes; they are terribly wrong but the bank doesn't care if you made your money riding trends that were not justified by fundamentals. 
Another big catalyst we need to be paying attention to right now is the next earnings season which starts in a couple of weeks. The period right before a new earnings season is typically bullish. We have already started seeing some of the mega-cap stocks like AMZN and NFLX to wake up from a 3-month slumber and have potentially started their pre-earnings rally. This is common among stocks that had big earnings surprises in the previous earnings season. Speculators are always trying to front-run another potential strong report and we often see 10-20% rallies ahead of the earnings releases.
Try my new subscription service which includes a private Twitter feed with option and stock ideas, emails with concise market commentary and actionable swing, intraday, and position trade ideas, the Momentum 50 list of market leaders, and much more. See some of the recent testimonials.
PERFORMANCE
Here's a Google spreadsheet tracking all closed option and stock ideas shared on my private Twitter stream and emails for subscribers.
Check out my free weekly email. to get an idea of the content I share with members.
Disclaimer: Everything I share is for educational and informational purposes only and it should not be considered financial advice.