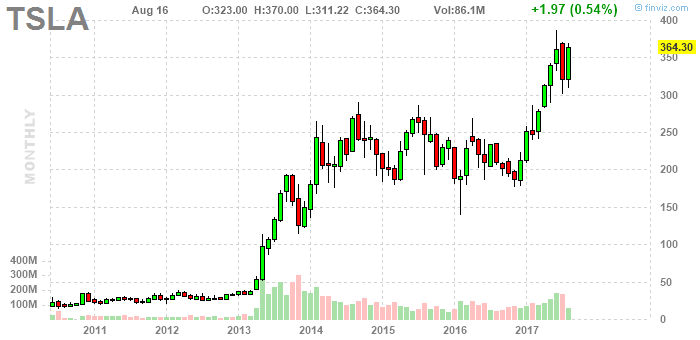 Toyota averages about $2,700 earnings per car by making 10.2 million vehicles per year.
Ford earns about $1000 per car by producing about 6.4 million vehicles per year.
Porsche earns about 17,000 by making about 225k cars per year
Tesla made 84k vehicles in 2016. The price tag of most of them is 80-120k. It's hard to estimate how much are they making per car because Tesla is reinvesting all its income into building capacity and innovation.
Tesla 3 is expected to be a game changer for the company and the car industry. The trouble is that at 35k, Tesla is not going to make any money on it. At least, not in the first 1-2 years until it reaches a capacity that cut its costs down significantly.
Looking at the price action in TSLA, there are a lot more bulls than bears; a lot more believers than disbelievers. The latter is important for two reasons:
Expectations can turn into self-fulfilling prophecies.

All trends need doubters; otherwise, there would not be anyone left to buy.
Disclosure: No current position in any of the stocks mentioned.