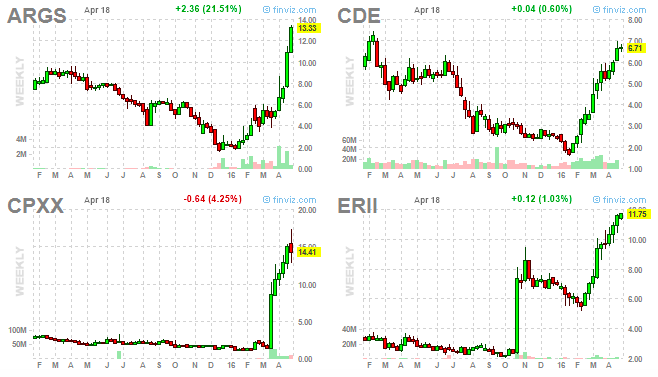 There are many different ways to make money in the stock market. What they all have in common is that none of them work all the time. Each has its "sweet spot" period when they work flawlessly and deliver incredible results.
I decided to take a look at the best performing stocks from their 52-week lows. My screens returned six stocks that have more than quadrupled from their lows.
One silver miner, one gold miner. SA reached its 52-week low in mid-2015, it made a higher low during the market correction in January this year, showing relative strength.
In any given year, some of the best performing stocks are usually the ones that surprise the most. This is why they often come from industries no one expects. Gold and silver miners were among the worst performers between 2011 and 2015. Most of them were down more than 90% from their all-time highs. They had so many fake attempts for a recovery during those years that by 2016, many people didn't even want to think about them, not to mention buy them. When a heavily neglected industry meets newly discovered catalyst, we could see some major moves.
CDE reached its 52-week lows with the rest of the market. Most stocks tend to top individually and bottom as a group. This is the case because correlations are relatively low during rising markets and very high during corrective markets.
Two biotechs – ARGS and CPXX.  Biotechs are always on the best and worst performers lists. Their products are either huge hits and revenue generators or zeroes. While it is not wise to gamble with FDA approvals, many biotech stocks provide multiple entries and setups after their drugs have been approved.
Look at CPXX for example. In March, it gapped 350% on 30 times its average daily volume. Then, it proceeded to go up another 100% in the following month, providing multiple entries for intraday and swing traders.
ARGS has a quick 4-day momentum run from $5 to 8.50 in late March. Then, just like many momentum stocks, it pulled back to its rising 10-day EMA (exponential moving average) and set up again. We highlighted it near 6.60 in our daily swing trade reviews on MarketWisdom.com here and here. It has more than doubled since then.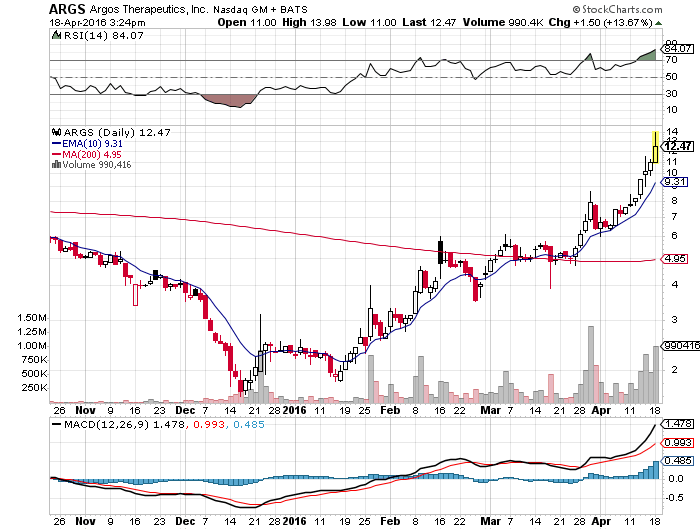 Two special situations – a pollution and treatment control services ERII and a weight loss program in the case of WTW.
In the case of WTW, Oprah announced a stake and strategic partnership. WTW gapped up 70% on the news. Then it went from 12 to 28 in the following month, again providing several good entry points after the big-volume gap.