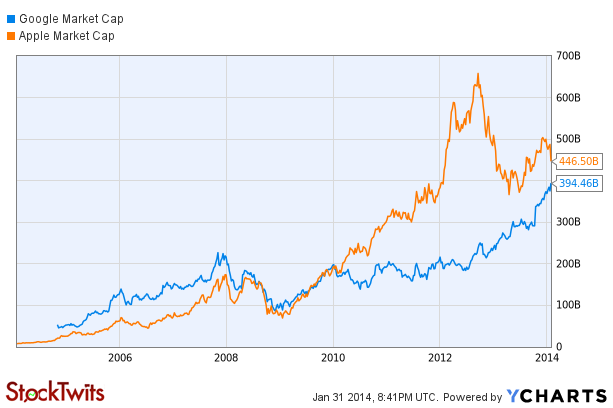 Everyone wants to own the next Google or Apple, but it is easier said than done. Fifteen years ago, Google did not even exist and Apple was on a brink of bankruptcy. The next Google or Apple might not have been started yet.
Today, Apple and Google are among the most innovative and powerful companies in the world. Both have a market cap of about $400 billion – actually Apple is at $450bn., but Google is quickly closing the gap. Both are immensely profitable and have plenty of cash in the bank to buy anything they want. And yet, it seems that Wall Street treats them very differently. Apple is currently trading at a P/E of 12, while Google at P/E of 33. It is said that the P/E ratio (Price to Earnings) is a measure of market expectations. Why does the market expect so much more from Google than from Apple?
Last week, Apple beat analysts' earnings estimates. As always, it guided next quarter's numbers conservatively and the market did not like it. It feels like the market is looking for a reason to reprimand Apple. Wall Street wants to see growth and it has long realized that with the current product line, Apple will have hard time growing. Not that it has to grow. Apple just sold 51 million iPhones last quarter and it continues to be a well-oiled, cash-printing machine. It earns $13 billion per quarter and it has $160bn in the bank – who would not love to have problems like these? Apparently, many shareholders. Since Apple announced that it will resume paying a dividend in March 2012, it has lost almost 15% of its market cap. (the paid dividends are a drop in a bucket compared to the capital loss)

In the meantime, Google is spending like a drunken sailor and the market loves it. Google missed earnings estimates last quarter and its stock still went higher. Wall Street currently loves Larry and Sergei. First, because they have delivered and made their shareholders richer. Second, because those two are not afraid to go chase after crazy dreams. Google is aiming for the moon. It is buying robotic and artificial intelligence companies, it is developing the most successful wearable technology yet – Google Glass, it is working on driverless car technology, its core ad business is booming. Google invests in dreams. Wall Street loves brave companies, at least as of right now.
"If you want to be long innovation, you should be long Google" – said Stanley Druckenmiller a few months ago. Apple is also innovating, but not at a pace that Wall Street likes and expects. It seems, Wall Street is using different criteria to measure Google and Apple and it is a lot stricter to Apple. Do you know why? Because, the companies have different type of core investors. Google is owned predominantly by growth investors and technology enthusiasts, who are willing to close their eyes for an earnings miss, because they expect a lot brighter future. Apple is predominantly owned by value-oriented opportunists, who want to make money now – therefore every little mistake is noted.
Don't get me wrong. Apple is not going anywhere. Everyone, who has ever tried a Mac, is never going back to a PC. People, who use iPhones like them enough, not to consider switching. Apple is a great company that sells great products, but is it a great stock at these levels? Some very smart investors like Carl Icahn seem to think so and are putting their money behind their mouth.  
Disclosure: long Google.