Most companies think about what will change in the next 10 years and position their business according to their projections and expectations. The truth is that no one knows what the next 10 years will look like and what novelties they are going to bring. The globe is moving faster than ever. Product cycles are a lot shorter. So is our attention span. Innovation is travelling faster than the speed of sound. We change our minds and preferences more often. Billion dollar companies are made and ruined within the scope of a decade. It seems that change is the only constant, but is it?
Amazon's founder and CEO, Jeff Bezos does not believe so. He thinks about what will not change 10 years from now and builds Amazon's long-term strategy around those constants. Lower prices, great service, faster deliveries and greater product selection – these are cornerstones that are not going to change no matter what. People are not likely to ask to pay more, receive their deliveries slower, have less to choose from and get crappy customer service.
If you stop to innovate, you better close doors and give the money back to your shareholders. This is what corporate America has been doing lately. Not the part about closing doors, but the part about giving back shareholders money through hefty dividends and buybacks. Wal-Mart is the latest example. They announced a new $15 Billion buyback on Friday. Borrowing for share repurchases is the new game in town and almost everyone is playing. Not, Amazon. Yes, they also took advantage of the record low interest rate environment to borrow, but one cannot blame them for lack of ideas where to put their money to work. Amazon continues to innovate and invest in its platform as if it was day one of its journey.
Over the past week alone, Amazon opened its first online store in India, announced that it will sell Kindles in China and expand its nationwide same-day grocery delivery service in the U.S. The market seems to be liking Amazon's geographic and product expansion. Shares of the online retail giant gained 3% in a volatile week and are trading within very close proximity of their all-time highs of $284.72.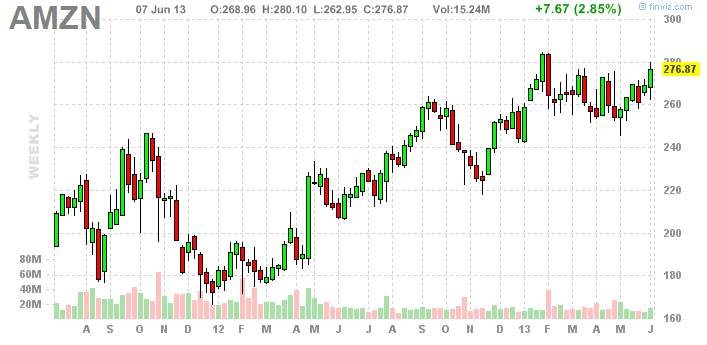 This is not even the big picture of why you might want to consider Amazon as a long-term holding. In 2001, e-commerce accounted for less than 1% of the total retail revenue in the U.S. Today, this number is still only 6.5% in the U.S, which accounts for 5% of the world population. The percentage of online sales is much smaller in the rest of the globe and it is bound to quickly grow in the next decade. If I had to choose one company that is likely to benefit the most from this huge e-commerce trend, it would be Amazon.