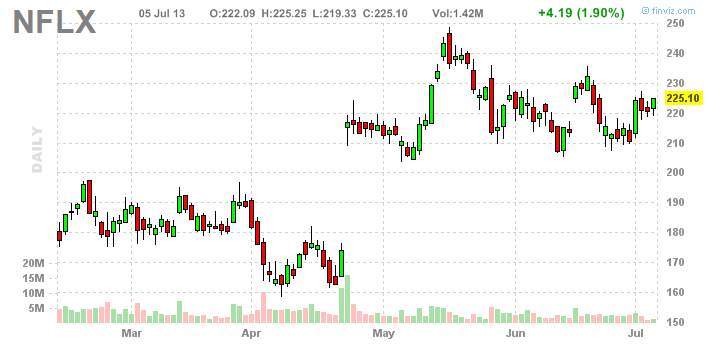 As of today (July 6th), 171 stocks have doubled in the past 12 months. Relative strength beyond 2-3 years often leads to mean-reversion, but numerous studies have shown that stocks that outperformed in the past 3, 6 and 12 months are very likely to outperform as a group in the next 3, 6 and 12 months. The logic is very simple – stocks that go up 300% in a year, are only up 100% at some point of time. How have those stocks fared recently?
82 of the 171 doubles, went up 5% or more over the past 5 trading days.
32 of the 171 doubles, went up 10% or more over the past 5 trading days.Some of the biggest gainers include: $CLDX $AFOP $PBYI $ALNY $XRM $JKS $SPWR $PSUN $WGO $OWW
If you study carefully the best performing stocks in 3, 6 and 12 month horizons, you will positively reach the conclusion that during their rise, they form multiple smaller bases and give multiple opportunities for swing traders to profit handsomely. Granted, some people prefer to be less active and ride such stocks for as long as possible, without having to watch every tick. There are various different ways to approach the market and stocks that have already doubled are a good tool for both swing traders and investors. The main reason for that is psychological. Imagine how many people would dare to even consider stocks that have already doubled. Probably most would rather stay away. Market opportunities exist where most people are not willing to go. This is why over time, value and momentum have remained the two most reliable alpha generators. They are psychologically hard to practice.
One of the most simple and effective swing trading systems is to scan for stocks that have already doubled in the past year and then to look for some form of consolidation through time (sideways move) over the past 1-3 months. Keep in mind that those stocks are extremely volatile, which is a benefit in healthy markets, but a huge drawback during corrective times. You could learn more how to improve the odds of finding higher probability swing trading candidates here.
You could use various entry techniques:
– buy when it clears new 52-week highs;
– buy on a 3%+ move;
– buy in expectation of a breakout those stocks that are setting up near 52-week highs.
Everyone has a buying strategy. Very few have a well thought out selling strategy. Many of those high momo stocks are capable of delivering 10%+ moves inside a week, so risking 3-4% to make 10% is not a bad tactic.
A quick scan revealed the following rather enticing swing setups for next week: $ACAD $SBGI $NFLX $RVLT $CLVS $SNTS $SAIA