When the going gets weird, the wierd turn pro – Hunter Thompson
This quote illustrates perfectly the nature of the current market. Yes, some of the 52week high breakouts have been holding as of late, but the real money has been made in the beaten down stocks that staged a comeback. The laggards of 2011 are just killing it YTD  – January effect in its full prime.
Last week, the spotlight was at rare earth metals ($REE), consumer discretionary ($NFLX, $WTW, $NTRI), home furnishing ($CPWM $SCSS), non-European Financials ($GGAL, $BAC), biotech ($DNDN, $JAZZ)
This week, the hot groups have been: education ($STRA), solar ($WFR, $STP, $YGE), China ($DANG, $RENN, $CGA, $BORN), recent IPOs ($FRAN, $ZIP, $Z, $P)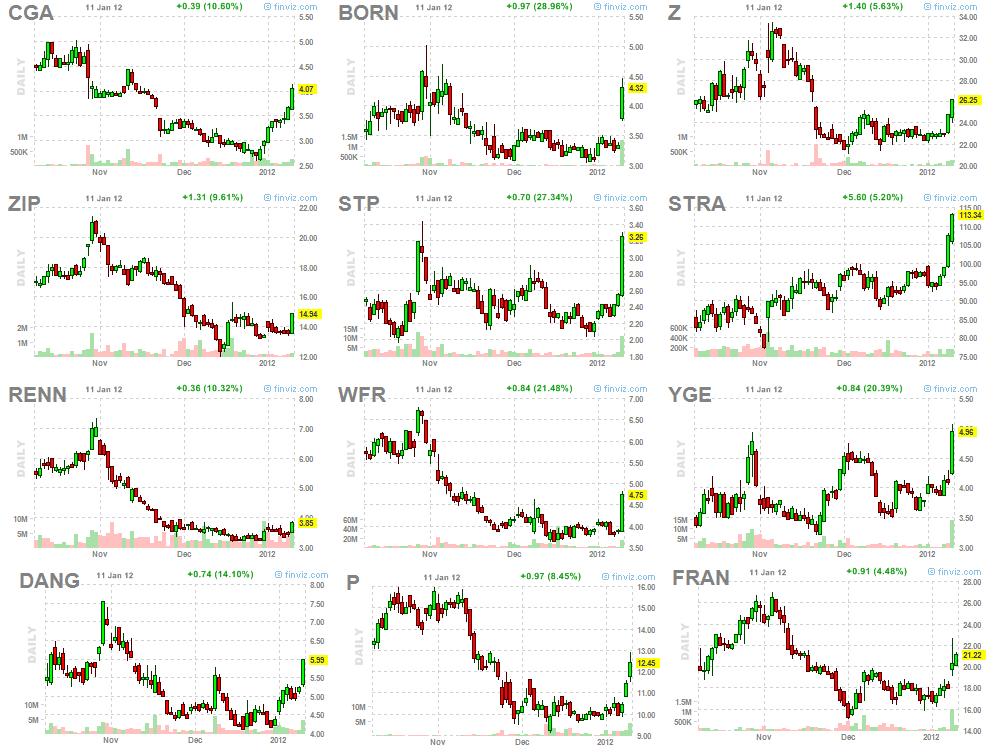 Keep in mind that when such laggards start to run like crazy, the probability of general market correction increases. Enjoy the party while it is going, but make sure that your gold BMW doesn't turn into a pumpkin. As Brian Shannon wisely points out:
There are no concrete signs of an imminent pullback, this is just an observation about the nature of risk management.