Let's take a look at the most notable moves in 2014.
Apple is up almost 50% in 2014 after massively underperforming the market in 2013. Google was on the other side of the performance spectrum. After going up more than 50% in 2013, it is about flat in 2014, so far. Momentum in big, well-known and widely-followed names tend to reverse.

Alibaba ($BABA) was to 2014 what Facebook was to 2013 – a stock with gigantic float that surprised everyone to the upside despite of its size. Recent 13Fs revealed that Julian Robertson put 30% of its capital into $BABA. If you manage a big amount of money, there are only a few great, liquid opportunities in a year. The only way to substantially outperform the market is by taking bigger position size when those opportunities arise.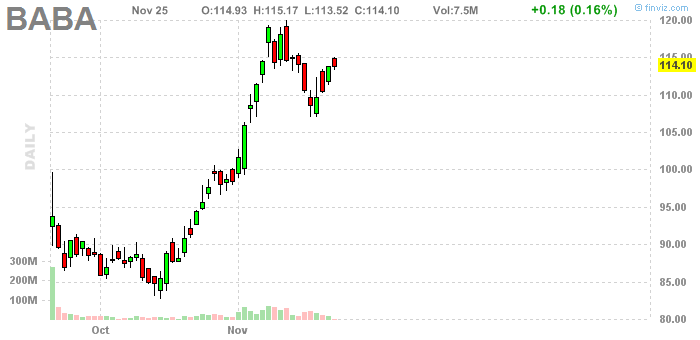 There were good opportunities on the short side too: the most liquid biotech ETF $IBB had a 30% correction between February and April. Some of its component dived 50%. During the same time, many cloud and enterprise software stocks had 50% declines.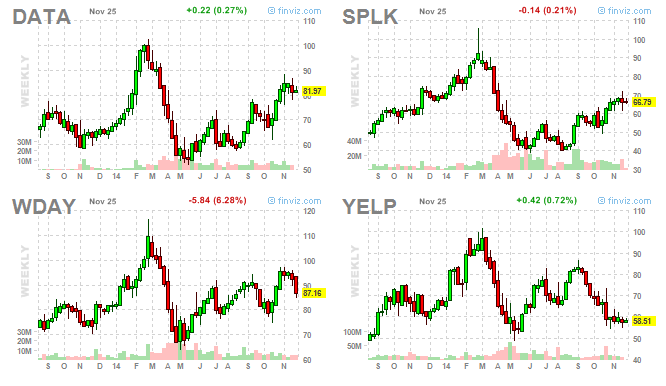 The next big short opportunity came in September/October, when the energy sector and precious metal miners were taken to the woodshed.

The year started strong for gold miners, soft commodities and emerging markets, but most of them gave up their gains after a strong first quarter. The beginning of the year is often a pivotal time for many beaten down names. Coffee quickly gained 100% in early 2014 after it struggled in the previous 3 years.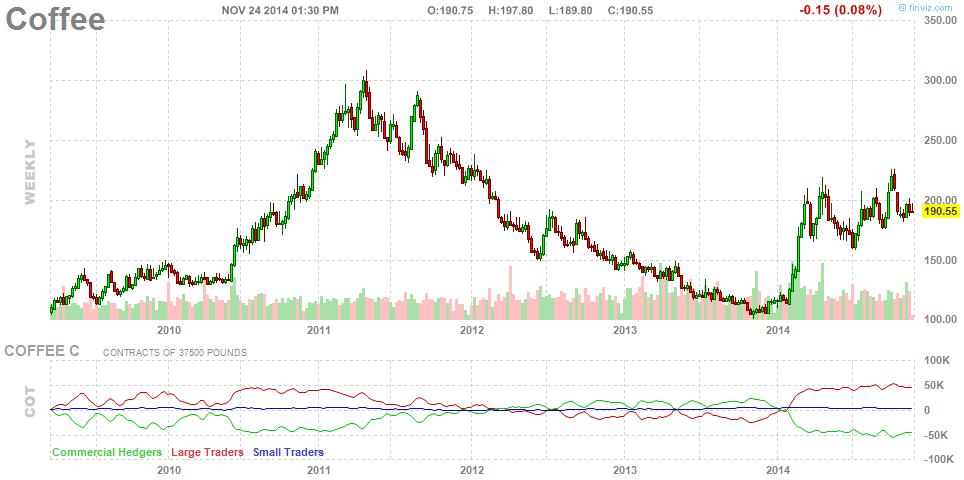 2014 started with a bang for momentum stocks.The SL50 list went up 16% in the first 6 weeks of the year while the S & P 500 was struggling. This was SL50 high for the year and it hasn't recovered since. Biotech, cloud, social media stocks were on fire and delivered solid opportunities for nimble traders.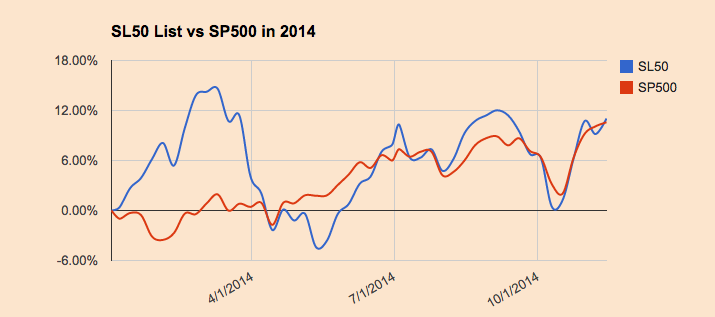 The fracking revolution created robust demand for sand and stocks like $EMES and $SLCA tripled in the first 8 months of 2014. Around that time I wrote a post titled "Sand is the new gold". This post was picked up by Bloomberg and Zero Hedge. At few days later, sand stocks topped and corrected 40%.

Speaking of big corrections, crude oil declined 30% from its high in June and reached levels not seen since 2011. The savings at the gas pump coupled with improving employment and consumer sentiment, put the foundations for a massive rally in consumer discretionary stocks stocks. Retailers and restaurants – industries that were left for dead in July, staged massive rallies into the year-end.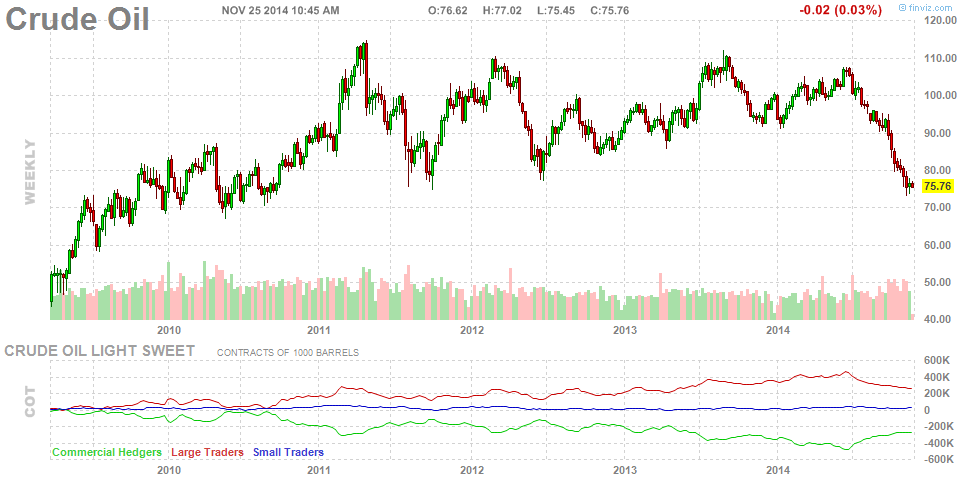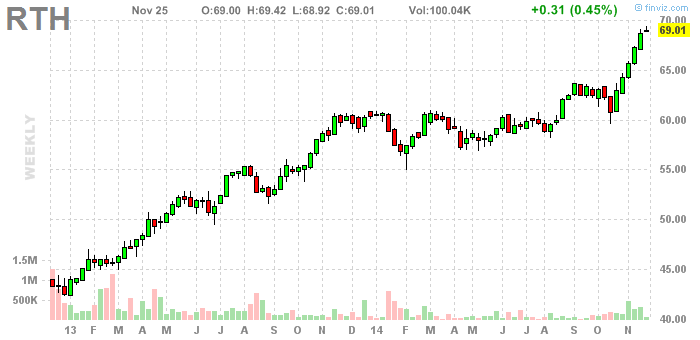 Paying attention to relative strength during deep market pullbacks could pay off. Some biotech stocks went sideways during the market correction in October. Those stocks substantially outperformed the averages after the market bounced in mid October. $RCPT doubled in six weeks. $AGIO went up 50% in the same time frame.

2014 was big year for transportation stocks – in the first half of the year, railways rallied because of all the newly found oil they transported from the Dakotas. In the second half, airlines hit new all-time highs as crude oil collapsed.

The biotech sector has been the undisputed price leader of the rally in the past few years. It had its 30% correction in February – April, but it quickly recovered and today it is trading near all-time highs again.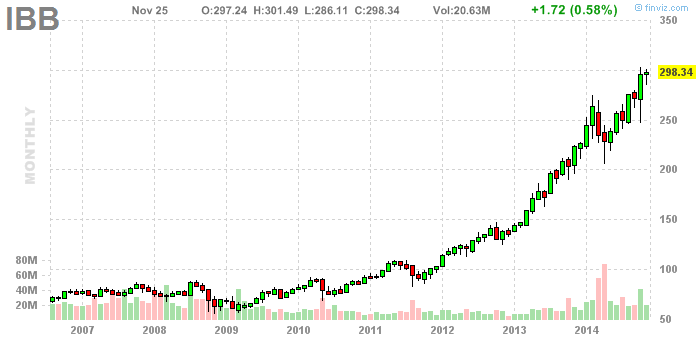 Some of the hottest IPOs of 2014: $GPRO, $MBLY, $TUBE, $CYBR, etc.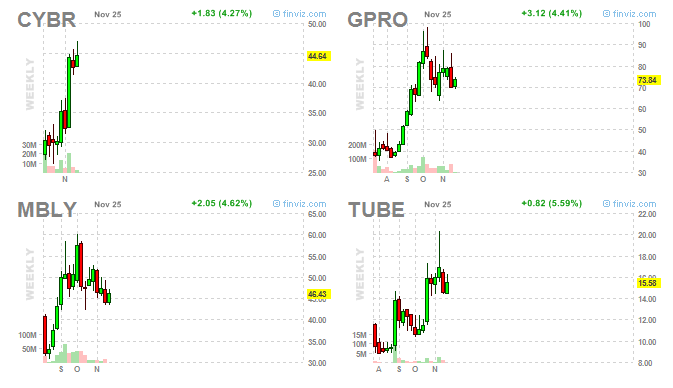 The U.S. dollar broke a major downtrend and all other currencies crashed against it, including Bitcoin (down 50% YTD after the crazy spike in 2013). I view Bitcoin more as a technology breakthrough than a currency, but we have to measure it with something, right?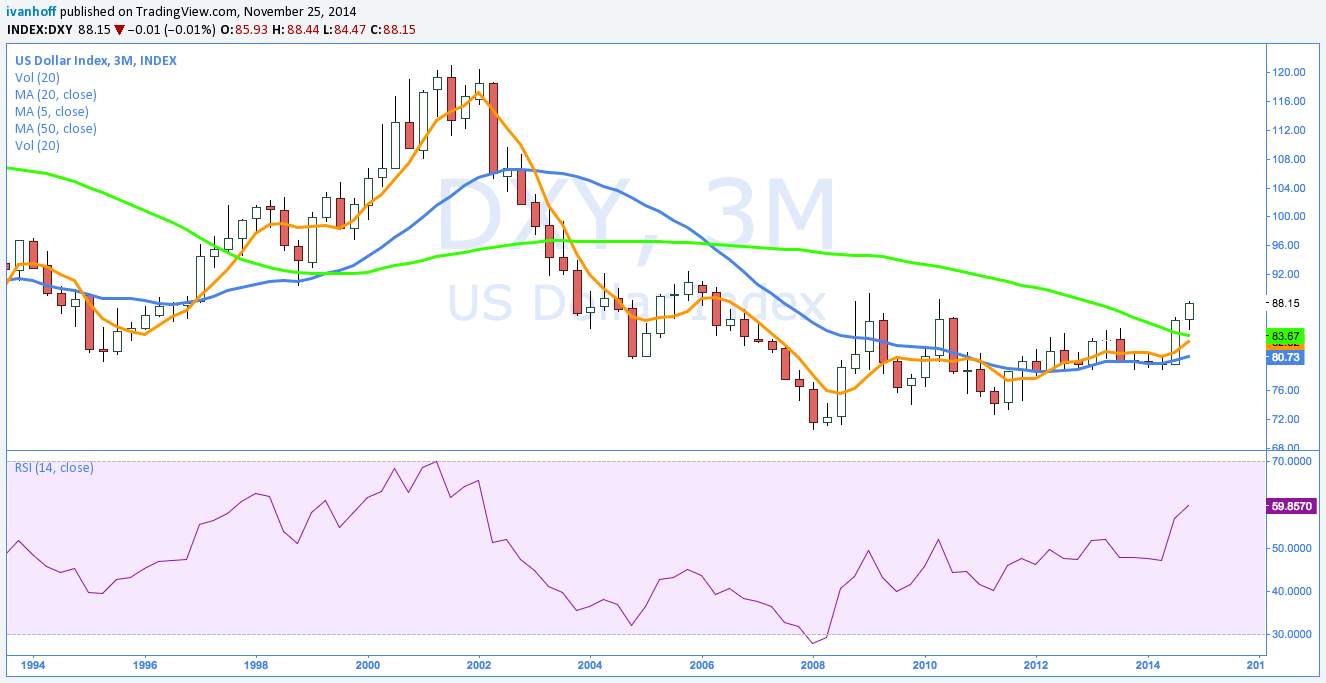 Just when everyone was positioned for interest rates to go higher, they went lower and U.S. government bonds had one of their best years.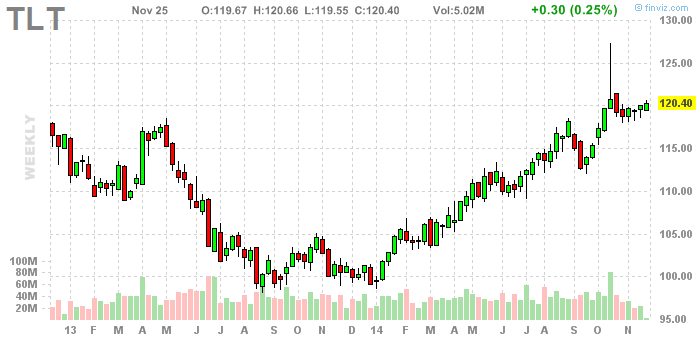 There are currently 2 billion people in the world with smartphones. This number is expected to triple in the in the next 10 years as smart phone usage per person increases too. Not surprisingly, many semi-conductors (chip makers) were on fire in 2014. Cyber security stocks also had an amazing year.


The Chinese large cap ETF $FXI is down 10% for the past 5 years, but this hasn't stopped China from delivering unbelievable growth stories. After quadrupling in 2013, Chine online stocks $BITA and $VIPS more than doubled again in 2014.

Who knew that aluminum stocks will become momentum darlings in 2014. Car manufacturers are massively switching to lighter-weight re-enforced aluminum and are one of the driving forces behind $AA and $CENX resurrection. Maybe this is a trend that will last for more than a year.

Volatility had its rare moments of glory in 2014. In October, it spiked to levels not seen since 2011. Today, it is back to where it started the year.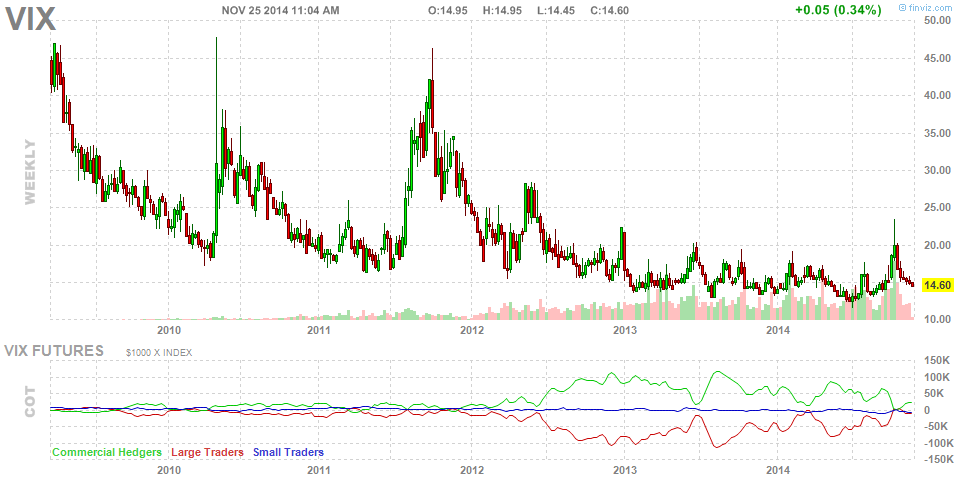 The year is not young anymore, but there is a whole month left and a lot could happen in December.
Did I miss something?
Check my new book: The 5 Secrets To Highly Profitable Swing Trading