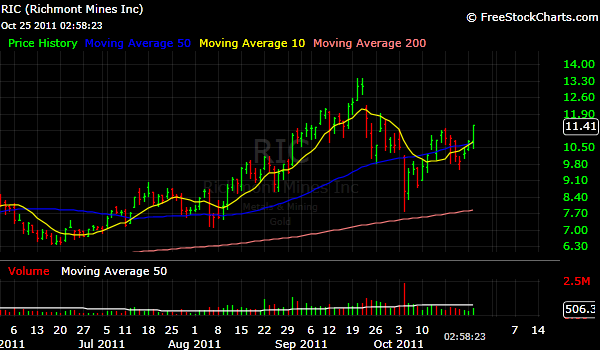 Precious metals are outperforming handily today, foreshadowing the market expectations for the widely anticipated New resolution of the European Credit crisis. There will be currency dilution involved and capital is slowly moving back to gold and silver as alternative assets that cannot be monetized. The U.S. will also participate in the bailout via IMF, so the U.S. dollar will also be affected.
The forced liquidation in gold is behind our back and there is a good chance it might move higher from here. Just last week, $GLD was on a precipice of breaking down, but as it has often been the case with gold lately, it rallied when everyone was turning bearish.
From my perspective:
– If the market likes the deal, precious metals should rally;
– If the market does not like the deal, capital is likely to flow into both Treasuries and precious metals;
The Fly also offers his perspective on the metals, naming them "the only long trade here" based on seasonality, among other reasons.
As always, I focus my attention on liquid names with the highest relative strength and the smallest float: $RIC
Long from 11.30 with a stop at 10.50 – discipline should always trump conviction.