Last decade belonged to caffeine stocks. Hanson Natural ($HANS) went up almost 16,000% for the past 10 years. Green Mountain Coffee Roasters ($GMCR) advanced 4,000% for the same period. The common element between the two companies was that they both offered new product targeting the end user and the only obstacle for growth was expanding their reach via new distribution channels. The common denominator of the underlying stocks was that they both reached an all-time high multiple times during their surge.
The market has been struggling as of late as apparently the debt ceiling negotiations are curbing risk appetite. Despite the general weakness, there are still names that keep rising.
Nutrition stores stocks continue to outperform. Two of them ($MJN and $GNC) closed at all-time highs today. Another ($VSI) is within striking distance from that benchmark price level, where all buyers are in a winning position. Neither of three companies is showing spectacular earnings or sales growth, but all continue to report above their analysts' estimates. So far, the market has been reacting positively to the surprises.
$MJN beat the consensus earnings estimates by a small margin for 6th consecutive quarter and advanced to new high on 3 times its average daily volume.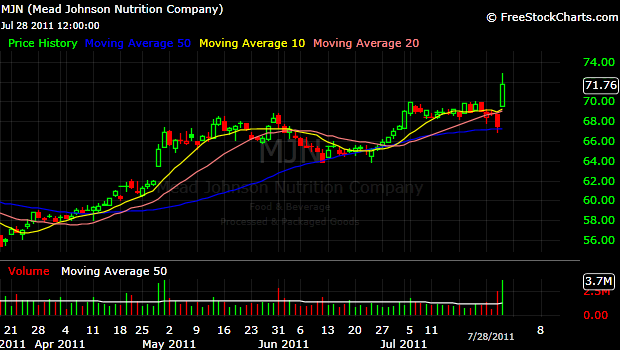 $GNC is up 45% since April 1st, when it had its IPO. The company just raised its FY11 earnings guidance and gaped to a new all-time high.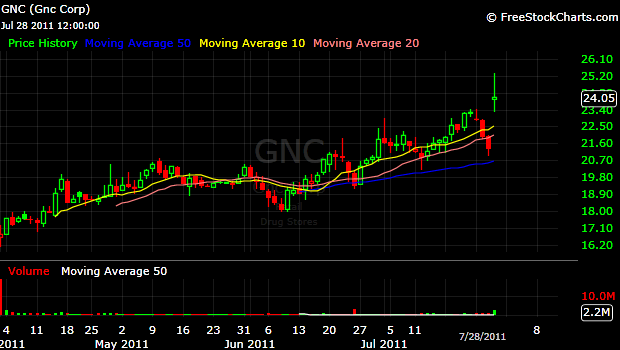 Vitamin Shop ($VSI) bounced 8% from its rising 50dma on a huge volume. It reported better than expected earnings in the afternoon. It will be interesting to see the market reaction tomorrow.