139 stocks went up 50% or more during the month of May. To create this list, I used a liquidity filter of average number of shares traded per day >100k and a quality ratio of minimum price of $2.00.
Distribution by sector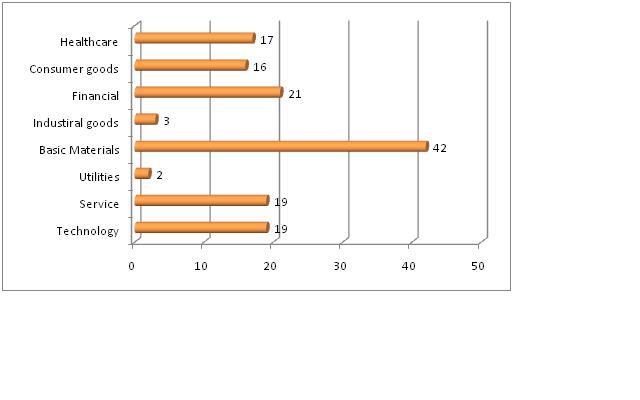 The move in the Basic material sector has been impressive during the last 4 weeks. The 10 year treasury yield has been steadily climbing since end of March. Higher yield is usually caused by selloff in the bond market and it is often an indicator of expectations for higher inflation 6 months ahead. As a result of that, all commodities groups were dramatically boosted and I expect this trend to continue during the summer.
The changes in the accounting methods and the steep yield curve were more than welcome by the financial sector, which again performed well despite multiple secondary offerings. The difference between the short-term Fed's rate and the 10 year T-note rate is practically risk free money for the banks. In longer-term perspective, the higher yield means higher mortgage and consumer credits rates and I believe that will be devastating for the banks from 2010 forward. In the meantime, they might continue to offer "earnings surprises". Let the banks worry about that and concentrate on the opportunities that the market provides now.
Earlier this week, the Consumer Confidence Index jumped unexpectedly – a first sizable jump since 2003. I believe this is a consequence of higher savings. People feel more confident as they have gradually built a cushion by saving more, paying off their debt, trying to live within their means. An increasing savings rate, higher yield, higher commodity prices, rising unemployment will rob the consumer purchasing power and I have no doubt that this will affect negatively the retail sales and the real GDP growth. When is going to happen. I don't know. Probably the consequences will be felt in the fall or early 2010. Let the retail and the government worries about that and concentrate on the opportunities that the market provides now. And currently, they are in the commodities.